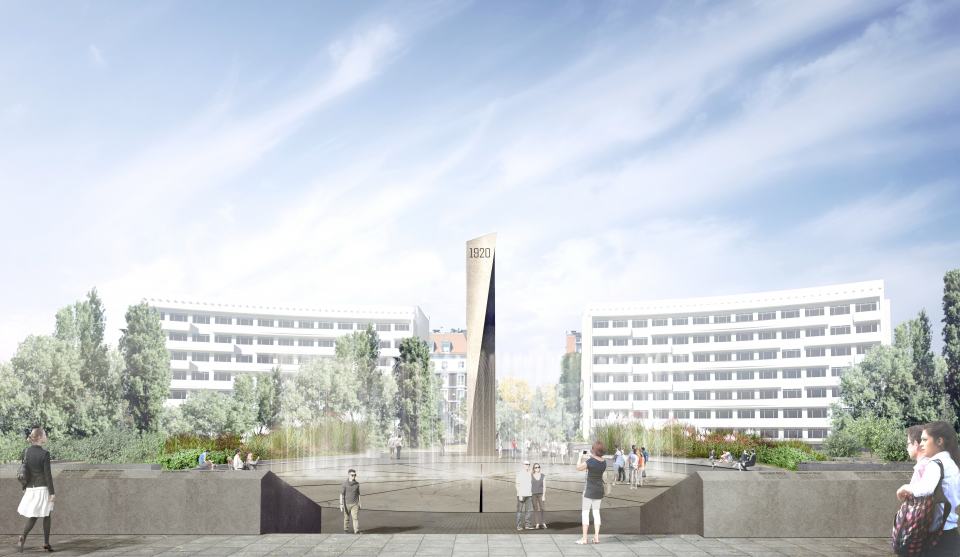 THE BATTLE OF WARSAW 1920 MONUMENT
The design by Nizio Design International was awarded the first place in the competition for a sculptural architectural design of a monument commemorating the Battle of Warsaw 1920. The concept assumes the creation of a monumental obelisk within the urban framework of the star-shaped layout of Plac na Rozdrożu in Warsaw. The form of the monument is reminiscent of a huge sundial gnomon. The monument enveloped in greenery with a star-shaped fountain will be made of architectural concrete with a stone texture.
Due to its shape, the monument seems to be stopped in motion. The monument is formed by two clashing elements with two types of texture. The lower part of the obelisk is made of a material that is rough and dark, while the upper part is lighter in colour and more smooth. The symbolic juxtaposition of two planes creates the impression of dynamism. The design ensures that the recreational function of the space is preserved, complementing it by the commemorative and informative function.